Welcome!
Subscribe to our newsletter and stay updated on our products
Digital Thermometer
Product Code : EM-10200
MOQ: 5000 Units Indications: Do not bite/boil the probe Do not spill chemical solvents on the unit Keep the thermometer out of reach of children Wipe the thermometer clean before storing Do not store the thermometer in direct sunlight Directions: Turn thermometer on by depressing the push button Now carry out the measurement by placing the thermometer through Oral/Axillary/Rectal. Now remove the thermometer after hearing beep sound Temperature will be displayed on the screen Finally switch of the thermometer and wipe the thermometer with the dry cloth before putting it back into the hard case Benefits: Easy to read temperature Faster than normal/mercury thermometer High accuracy rate Does not use mercury No risk of breaking hazards Features: Convenient: Easy to read LCD Display Quick: Takes just one minute to measure body temperature Accurate: ± 0.1°C. Range of measurement: 32°C-42°C ±0.2°F. Range of measurement: 89.6°F-109.4°F. Alarm: Approximately 10 seconds sound signal when peak temperature is reached Memory: Recall last measured reading Auto Shut Off
EM-10200
EM-10200
Digital Thermometer
Product Code : EM-10417
Digital Thermometer – Rigid/Flexible Tip Rigid Tip / Flexible Safety Tip SGS Belgium NV, notified body 1639 Range: 32.0°C-42.9°C (89.6°C-109.2°C) Accuracy : (+/-)0.1°C(+0.2°C)
EM-10417
EM-10417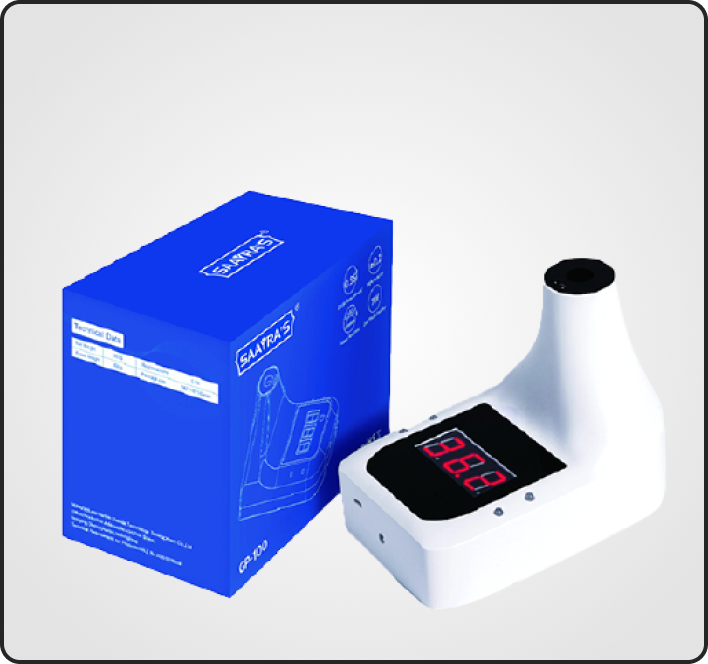 Commercial Grade Infrared Thermometer Forehead
Product Code : EM-10199
Response Time: 0.5s Accuracy: (+/-)0.2°C ((+/-)0.4°F) Operating Range: 10-15cm Charging Method: USB or 5V DC (18650 Li-ion) Standby: 1 week China Infrared Thermometer
EM-10199
EM-10199
Contact Details
Eternal Mark Pvt. Ltd. Room 301, Kam On Building, 176 Queen's Road Central, Hongkong.
Eternal Mark Overseas India Ltd, Mumbai, India.
Eternal Mark Pte Singapore Ltd, 10 Anson Road, 10-11 International Plaza, Singapore (079903).
For All Enquiry - Please Contact us
Get in touch by writing to us